✔️Increase comfort for you and your baby
✔️Reduce back and hip pain
Keep your little one close while you dash around town, breezing through mommy/daddy duties hands-free. Suitable for all-day use. Sunve baby carrier allows you to carry your little one in a seat that's comfortable and safe for both of you.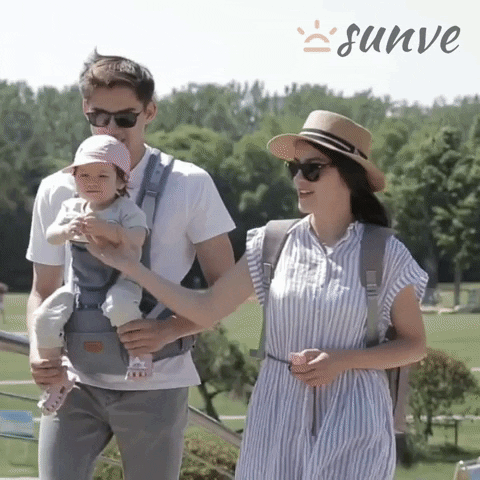 🔹Suitable for babies 0-3 years old.
🔹Back pain relief design for Dad and Mom.
🔹Ensures your baby is seated in an ergonomic "M".
🔹Anti slip guard and extra padding on 3D hip seat.
🔹Easy to install and carry, necessary equipment for traveling.
🔹Front-outward, front- inward, front and back,hip and back carry.
🔹Adjusts to fit multiple wearers from petite to larger body types.
🔹Breathable fabric, collapsible hood for wind and sun protection.
🔹Ergonomic design makes it easier to bring babies/care for the waist.
ERGONOMIC M-TYPE WAIST SEAT
Ergonomically shaped seat ensures that your baby is seated in natural and recommended squat-spreading posture, which is important for healthy skeletal development.
MANY POCKETS
Four roomy pockets to store your belongings, such as wallet, phone or keys. Also a bottle holder so that your baby always has a drink nearby.
 PATENTED DESIGN
The baby carrier has zippered front pocket keeps your baby cool during the hot season, made of soft, high-quality polyester fabric with environmentally friendly EPP filling, this skin-friendly and allergy-free material is breathable, waterproof and very durable.
X-TYPE SHOULDER STRAP
The X-shaped strap is more stable than the H-type strap and is not easy to slip, the X-shaped strap makes it easier to disperse gravity of the carrier, reducing the weight on the shoulders.
 ANTI-SLIP BABY SEAT
Sunve baby carrier seat has silicone granule technology. The dotted surface gives a better grip and makes the baby sit more stable.
HOW DO I WEAR THE CARRIER?